Go Volunteer Africa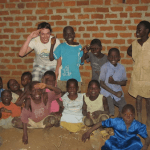 Go Volunteer Africa is an award-winning volunteer travel operator. Go Volunteer Africa provides sustainable and ethical volunteer projects, and exciting adventure holidays in Africa. Go Volunteer Africa is number one provider of affordable and meaningful volunteer travel programs in Africa.
Go Volunteer Africa has been leading volunteering opportunities since 2009. We have volunteering projects in across Africa (and abroad!). From building, to teaching, to childcare, all combined with memorable safaris and tours! You can join a group or take a group of your own, we also have solo programs.
Our projects are established in collaboration with the host community, so we know we are addressing a real need and genuinely making a difference to those communities' lives – but if you have an idea for a project please do let us know!
Go Volunteer Africa combines community development, service learning, and fun filled adventures! We work on many different projects which support the advancement of education, healthcare and the relief of poverty by focusing on education, Agriculture, health, environment and social development.
Go Volunteer Africa community projects focus on building basic infrastructure to assist local community development. Our approach to community development is different because each project we run is owned and led by the community to ensure its sustainability. We work closely in partnership with village leaders, local organizations and charities and that means each project is fully integrated into village life.
We are dedicated to empowering communities through sustainable service, transformative learning, and adventurous exploration. Go Volunteer Africa leads the way in combining meaningful volunteer encounters and fun filled adventures in Africa – Work Hard and Have Fun.
Listing ID

:

5795

Founded in

:

2009

Business Type

:

Tour Operator

Area(s) of Expertise

:

Safaris, Luxury/Private Tour, Group Tour

Size

:

101-500 employees

Working Days

:

Monday to Friday

Business Hours

:

8am-5pm