In most cases, when a legal situation arises, the best thing to do is to hire a qualified lawyer. Whether you are an individual or a corporate, it is one of the smartest decisions to make. However, with so many law firms nowadays, claiming to be the best, it can be challenging to figure out which one is right for you. If you are looking for reliable lawyers in Dakar Senegal to assist you in any legal issues, then this is for you. Here is a list of the top 5 law firms in Senegal to help you out regarding any legal matters in the country. Because these highly professional and diligent firms provide excellent legal guidance in various areas including businesses, finances, conflict resolutions, and more.
1. Houda Law Firm Senegal
With more than 40 years of experience, Houda Law Firm has been a reference in the Senegalese law industry. Today, in the final stage of ISO certification, Houda law firm provides one of the best legal services countrywide. Since 1977 the company specializes in areas such as banking, mining, oil & gas, conflict resolutions and business advisory. As one of the top law firms in Senegal, Houda has served a number of high-profile clients such as Ciments du Sahel, Canal+, SGBS, BNP Paribas, Banque Atlantique and much more.
Physical Location: 66 Boulevard de la République, Seydou Nourou Tall building, Dakar – Contact: (+221) 33 821 47 22 –Email: houda@avocatshouda.com
2. Geni & Kebe Lawyers
Headquartered in Dakar Senegal with offices in 15 African countries, GENI & KEBE lawyers offer a wide range of legal services. Firstly, established in 1912, the law firm is one of the oldest corporates in Senegal that specializes in providing legal advice to embassies and organizations willing to conduct business in the country. Above all, through these years, GENI & KEBE lawyers has established itself as one of the top law firms in Senegal and across Africa. The company can handle any legal matters in the following languages: English, French, Arabic, Spanish, and Wolof.
Physical Location: 47 Boulevard de la République, Sorano Building, Dakar, Senegal – Contact: +221 33 821 1916 – Email: info[@]gsklaw.sn
3. Cabinet Maître Cheikh Fall
With more than three decades of experience in the field of law, Cabinet Maître Cheikh Fall has built strong relationships with national and international organizations by providing high-quality legal services. Founded in 1982, Cabinet Maître Cheikh Fall is today among the best lawyers in Dakar Senegal.  The area of practice includes but not limited to banking law, business law, admiralty, and maritime law, international law, etc. Additionally, the lawyers at Cabinet Maître Cheikh Fall speak both English and French languages. The firm has branches in several African countries such as Mali, Burkina Faso, Niger, and Guinea.
Physical Location: 48 Rue Vincens X Abdoul Karim Bourgi, Dakar, Senegal – Contact: +221 33 821 75 79 – Email:cgfall@orange.sn

Read Also: The 5 Best Law Firms in Botswana
4. Mame Adama Gueye & Associates
Also known as MAGA, Mame Adama GUEYE & Associates is a business law organization based in Dakar, Senegal. The company specializes in providing legal services to various areas including commercial, banking, copyright, taxation and much more. Fully ISO certified, Mame Adama GUEYE & Associates has also been one of the leading legal corporates in Senegal, according to Global Chambers 2016. Moreover, MAGA law firm has highly qualified and bilingual lawyers ready to assist you on any legal issues. Not only in Senegal, but also in the West African region.
Physical Location: 107-109 Rue Mousse Diop x Amadou Assane Ndoye Dakar, Senegal – Contact: + 221 33 849 2800 – Email: magueye@avocats-maga.sn
5. LPS L@w Senegal
Established in 2015 in Dakar, LPS L@w Senegal is one of the youngest and most dynamic law firms in the capital. In this era where technology is booming, the company focuses on areas such as data protection, cybersecurity, e-commerce and all legal issues related to new technologies. Besides, the LPS L@w provides litigation support and debt recovery services to both, private and public sectors. Through passion, determination, and integrity, the young legal company LPS L@w has positioned itself today among the top law firms in Senegal.
Physical Location: Cité Keur Gorgui, Elysée 11 Building, Dakar, Senegal – Contact: +221 33 848 79 88 – Email: lp.sarr@lps-law.com
To conclude, these corporates are some of the top law firms in Senegal. As you can see many legal organizations specialize in specific areas of the law. So, it is up to you to identify the one that better matches your needs. Also, while hiring a good law firm may not be budget-friendly, it can help get you out of deep troubles. Especially in situations involving a huge amount of money, life imprisonment, divorce, and family cases, just to name a few. Finally, by looking at the bigger picture, it is definitely worthy of hiring a professional attorney when any legal matters arise.
---
Discover more on AFRIKTA: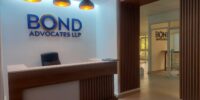 Bond Advocates LLP is a top law firm located at Top Plaza, Kilimani, Nairobi, Kenya. Our founding partners boast a combined 50+…