With a rapidly expanding economy and a business-friendly environment, Ghana has attracted local and international manufacturing companies seeking to make their mark on the continent.  In the vibrant economy of this West African nation, the manufacturing sector plays a pivotal role in driving development. Today at AFRIKTA, we highlight the top manufacturing companies in Ghana with their locations.
Top 10 Best Manufacturing Companies in Ghana and Their Locations
1. Unilever Ghana Limited
Location: Tema
Unilever Ghana is part of the global consumer goods giant, and its presence in the country has left an indelible mark. With a diverse portfolio of products spanning personal care, home care, and food and refreshments, Unilever plays a pivotal role in meeting Ghana's everyday needs. Situated in the bustling industrial city of Tema, Unilever Ghana Limited has been a beacon of excellence in the manufacturing sector.
2. PolyTank Ghana Limited
Location: Accra
Founded in 1992, PolyTank Ghana Limited is one of the top manufacturing companies in Ghana. With years of experience in the packaging industry, PolyTank Ghana Limited manufactures plastics, water storage tanks, and more. Their products form the lifeblood of clean water accessibility across the nation's expanse. Renowned for its quality plastic tanks, PolyTank Ghana Limited has a strong foothold in the Ghanaian manufacturing industry. Located in Accra, the company is today the leading plastic manufacturing company in the country. Their commitment to quality and innovation has earned them a top spot on this list.
3. Nestlé Ghana Limited
Location: Tema
Nestlé Ghana Limited is synonymous with nutritional excellence. Based in Tema, this company has been a driving force behind the manufacturing of nutritious food and beverage products. Nestlé Ghana Limited has established itself as a leader in the manufacturing industry, particularly in the food and beverage sector. With a commitment to delivering high-quality products that enhance the quality of life, Nestlé Ghana has consistently earned the trust of Ghanaian consumers.
4. Fan Milk Limited
Location: Accra
Fan Milk Ghana Limited is among the top manufacturing companies in Ghana, known for its delectable dairy products. Situated in the heart of Accra, this company has been churning out ice creams, yogurts, and other dairy delights that have captured the hearts of Ghanaians for decades. Their commitment to freshness and flavor is unmatched. 
5. Kasapreko Company Limited
Location: Spintex Road, Accra
Kasapreko Company Limited is a trailblazer in producing alcoholic and non-alcoholic beverages. Located on Spintex Road in Accra, this company has rapidly expanded its product line to cater to the evolving tastes of consumers. Their dedication to innovation has propelled them to the forefront of Ghana's manufacturing landscape.
6. Ghana Oil Company Limited (GOIL)
Location: Accra
Ghana Oil Company Limited, commonly known as GOIL, is a leading organization in the petroleum and energy sector. They provide various products and services, from fuel distribution to lubricants, that keep Ghana moving forward. Headquartered in Accra, GOIL has consistently delivered high-quality petroleum products and services, contributing significantly to Ghana's energy landscape.
7. Blue Skies Holdings Limited
Location: Nsawam, Accra
Established in 1998, Blue Skies Holdings Limited is a pioneer in the agro-processing industry. They are known for their fresh fruit products and commitment to sustainable and ethical practices. Nestled in Nsawam, this company has been at the forefront of processing and exporting fresh fruits to international markets. 
8. Aluworks Limited
Location: Tema
Aluworks Limited is a cornerstone in Ghana's aluminum industry. Situated in Tema, this company specializes in manufacturing aluminum products that serve diverse sectors, including construction and packaging. Their dedication to quality and precision has made them an industry leader. Aluworks Limited contributes significantly to the development of Ghana's infrastructure.
9. Wilmar Africa Limited
Location: Takoradi
Wilmar Africa Limited is a key player in the agribusiness and manufacturing sectors. Located in Takoradi, this company is known for its edible oil and soap production. Their products have found a place in countless Ghanaian households, emphasizing their commitment to quality and affordability.
10. Sunda International
Location: Tema
Sunda International is a rising star in the manufacturing arena of Ghana. Situated in Tema, this company manufactures ceramics, sanitary ware, hardware accessories, daily cleaning items, and personal care products. With a focus on technological innovation, Sunda International is poised for even greater success in the future.
In conclusion, these top 10 manufacturing companies contribute significantly to the nation's economic growth. They have also established themselves as symbols of quality and excellence. Their strategic locations across Ghana ensure accessibility and efficiency in serving the needs of consumers. As the manufacturing sector grows, these companies will remain at the forefront of innovation and progress.
---
---
Discover more on AFRIKTA: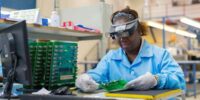 Microtronix Manufacturing specializes in electronics manufacturing. Currently manufacturing for key companies operating in the Mining, Industrial, Commercial, Security and Vehicle & Asset…