Agafay Desert Marrakech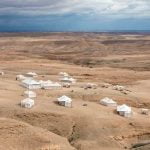 Founded in 2002 in by Madam Nadine Bella an international event – travel expert at Marrakesh, we are a licenced Moroccan destination management company specializing in Marrakech Agafay Desert tourism activities.
Our international multilingual team is made up of professionals with diverse expertise and backgrounds in the event, travel and tourism sectors in addition to film industry. This mixture is the hub of our creativity andvision.
We are privately owned travel and event agency, and have developed through the years to become a partner with the world most well-known brands and private clients helping them reaching their goals in the most efficient way.
Listing ID

:

9784

Founded in

:

2002

Business Type

:

Travel Agency, Tour Operator

Area(s) of Expertise

:

Safaris, Team Building, Luxury/Private Tour, Group Tour, Flight Reservation, Accommodation Booking, Car Hire, Airport Transfer

Size

:

11-100 employees